One year ends and a new one begins, which gets us in the mood to consider how EssentialPIM has changed in the last twelve months and what is ahead.
Windows EPIM began in 2022 at version 10.0.2, announced the major release of 11.0 in July, and is now at version 11.1.11. Meanwhile, the Android app started at v5.8.7 and is now at v6.0.9.
Let's review some major changes in 2022 and see what may be in the plans.
Six changes to EPIM's appearance
In the Mail module, the Classic and Wide views have been enhanced to support displaying grouped messages in the reading pane (Figure 1). A group, for now, means a period of time: Today, this week, previous week, previous month, and older. Expanding groups to include other fields is in the plans.


Figure 1. This compares the new viewing options (#2) to prior versions for Mail.
Mail has also been enhanced to display the total number of email messages in each folder (Figure 2).


Figure 2. By default, EPIM displays the number of unread messages in a folder (left). To include the number of total messages, use View > Total Number of Emails (right).
In response to requests from users for a more flexible workspace, EPIM redesigned the Navigation Pane and introduced a global sidebar.

The Navigation Pane has been reduced to a fixed width, in contrast to prior versions, where a button in the lower right toggled how it displayed (Figure 3). Tooltips replace the former labels and views for Calendar and Tasks that had been in the Navigation Pane have moved to the main toolbar in these modules.
A sidebar that was in the Calendar to show tasks is now available in all modules and displays calendars as well as tasks. Read more details here.


Figure 3. The Navigation Pane, which had toggled to display module labels, is now a fixed width and also includes easy access to EPIM Cloud.
The Calendar sports a new look for displaying categories. EPIM previously filled the background of an appointment with the category's color. Now, you can limit the color to a box through Tools > Options > Calendar, Display categories as (Figure 4).


Figure 4. An option has been added to display an appointment's category either partially as a colored box (top) or with the entire background filled in.
Further customization has been added to the text formatting toolbar in Mail and Notes. Not only can you choose the functions to display, but you can also have the toolbar span multiple rows. (Figures 5 and 6).


Figure 5. The new formatting toolbar (#2) reorders items, adds styles and emojis, and allows displaying icons in multiple rows. The sequence of icons is fixed; you cannot reorder them.


Figure 6. In single line mode (top), EPIM condenses sections of the formatting toolbar (highlighted) to signal more options are available.
Improvements for efficiency
Besides updates to appearances, EPIM made certain tasks more efficient. You can:
Schedule events in separate calendars. Read more.
Set margins and tabs in Notes more easily with the introduction of rulers. Read more.
Combine sticky notes into one display to tidy up your screen. Simply drag and drop them onto each other
Converting items from one type to another also became easier.
In Notes, you can convert a leaf to a new note by right-clicking on the tab and choosing Convert to Note in the context menu (Figure 7). EPIM will move the leaf under the Root. To control where the leaf goes in the hierarchy, pick the copy or cut options from the context menu, select the note where you want it inserted, and paste.
When you convert an email, contact, task, or appointment to a note, EPIM will open the note in a new window for editing and automatically make its title a link to the original item.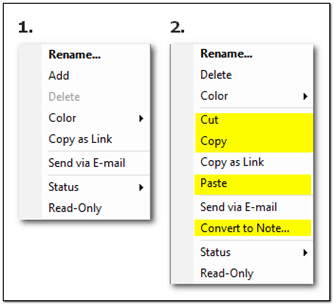 Figure 7.
Expanded context menu options for copying a leaf or converting it to a Note.
Requests from users implemented
While we're looking back, the EPIM team has implemented several requests from users in recent releases, including:
Support for Exchange Server email
Rules in Mail to save attachments to a folder
Keep a history of revisions for notes
10-year milestone for EPIM Android
The android version of EssentialPIM reached two milestones in 2022. AEPIM celebrated its 10th anniversary, having been released in July 2012. The second milestone is the synchronization of AEPIM with EPIM Cloud, introduced in version 6.0. With EPIM Cloud as the bridge, you can now sync your data across Windows and Android devices. You can read more about this here.
Features that are planned
Between the vision of the EssentialPIM team and requests from users, we can expect EPIM to continue advancing in 2023. Forthcoming features that have been mentioned in the Forum include:
Link words or text in an AEPIM note to a web page
Add a mail module to AEPIM
Add a web clipper
Add features to Kanban, such as creating user-defined columns
Integrate EPIM with Antidote, The Write Cure.
Add a simple spreadsheet module (or sub-module for Notes)
Best wishes for a healthy and safe 2023.