Most announcements about new releases of software include a generic line such as "Other optimizations and bug fixes." EssentialPIM v11.0 is no different. The last two posts have covered the significant changes in version 11. Here, let's take a look at some of the not-so-apparent changes.
Calendar views move to toolbar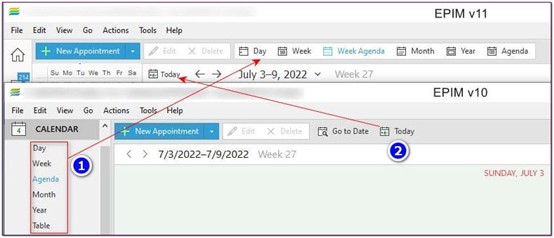 Figure 1.
Calendar views have moved from the Navigation Panel on the left to the Calendar toolbar (#1). Also, the Today button — a shortcut for jumping to today's date — has moved to the left of the calendar date (#2).

Figure 2.
The "Go To Date" button disappears in EPIM 11, but the functionality remains. Click on the calendar date.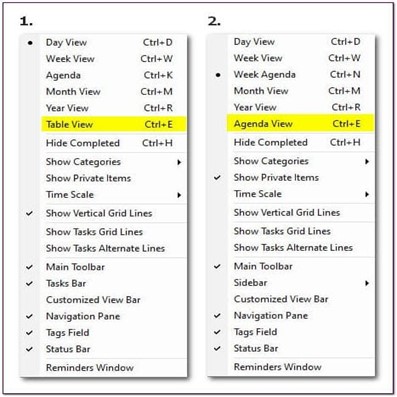 Figure 3.
Table View for the Calendar in prior versions (#1) has been renamed Agenda View (#2).
Task views also move to the toolbar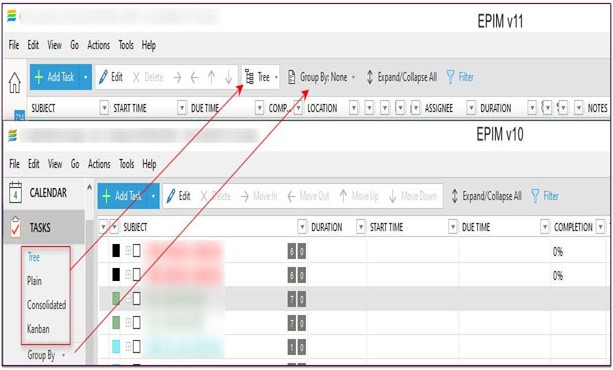 Figure 4.
Four views for Tasks had been on the Navigation panel but have their own drop-down on the Tasks toolbar in EssentialPIM 11.0. Similarly, look for the Group By options on the Tasks toolbar.
And one more move to the toolbar: Filters for Notes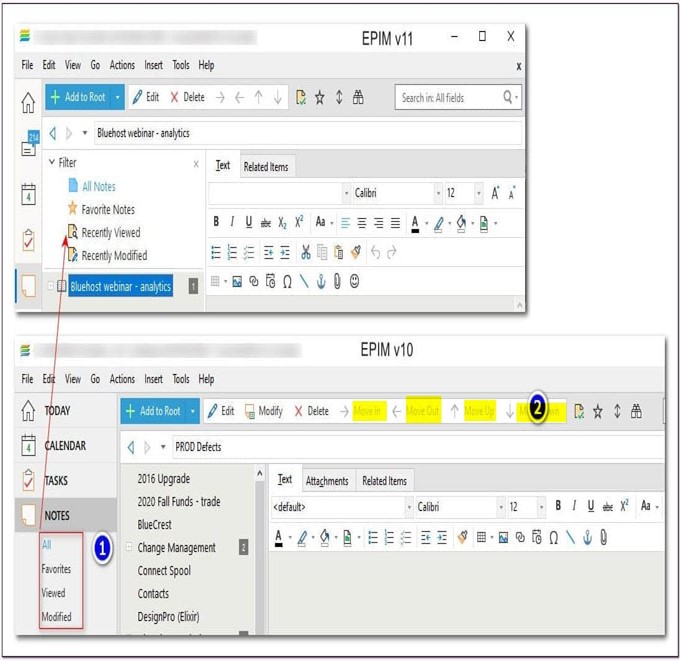 Figure 5.
Filters for Notes have moved from the Navigation Pane to the top of the Tree Panel (#1). To access the filters, click on View > Notes Filter. The down arrow next to Filter toggles their display. Another space-saver in EPIM 11 is removal of labels for the Move Up/Down/In/Out icons (#2).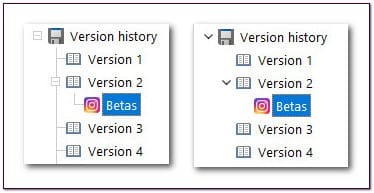 Figure 6.
Settings for Notes include a new option to display or hide the hierarchy lines. Set this via Tools > Options > Notes.

Figure 7.
The status bar sports a wording change (from "displayed" to "items") and a different icon at the right for clicking to go offline. New to the status bar in EssentialPIM 11.0 (#2) is an icon that you can click to bring up pending reminders.
In addition to the changes above, you should also experience improved synchronization of notes with Google Drive and synchronization with EPIM Cloud.