Tasks is the module I use most during my workday and at the end of the day I filter them to record my hours in our timekeeping system.
I have noticed the yellow Customized View Bar that pops up but haven't paid it much attention, even though I've used EssentialPIM for years. For this post, I wanted to take a look at this feature to learn how it works and maybe improve my productivity.
How custom views work
The Custom View Bar applies to all modules, except Trash, and appears automatically when at least one filter is active. The filter tool is available wherever items display in columns and activates drop-downs for each column (Figure 1). Each drop-down presents all the values in that column, with the option to create a customized view by selecting only items you want to be displayed (Figure 2).
You can also display the Customized View Bar from the menu: View > Customized View Bar. There is no shortcut.

Figure 1.
The filter tool toggles drop-down buttons in each column.
Figure 2.
The drop-down opens a dialog with the values available for filtering; in this case, Completion.
When you filter items, two cues tell you a filter is active: the Custom View Bar above the column headers and a triangle in the drop-down button for the filtered column(s). (Figure 3).

Figure 3.
The Customized View Bar and a filter button in each column header cue when, and what, items are filtered.
By default, the Customized View Bar is not docked—it will not be visible when you leave the module and return unless a filter is active. To keep it visible, click the push-pin (Figure 4).

Figure 4.
The push-pin toggles keeping the Custom View Bar visible. In #1, the bar is docked and will remain visible whether or not items are filtered. In #2 the bar is not docked. The default is undocked.
3 views focus what you see
EPIM by default displays all items. Three custom views let you know there are:
Hidden completed items
Hidden private items
Filtered items
The label "filtered items" means you have filtered one or more columns. Hidden private and completed items are reminders that you have chosen to hide these. You can clear these filters by clicking on the link in the Customized View Bar and choosing the Clear option. You can also toggle these through from the View menu (Figure 5).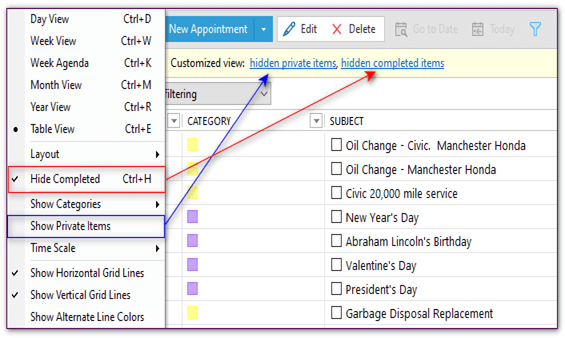 Figure 5.
The View menu, where you can hide completed and private items. These filters appear on the Customized View Bar when active.
Use templates to keep frequent filters handy
Customizing views via filters and being aware of them through the Customized View Bar are handy in themselves. Templates allow you to save the current set of active filters and reapply them later. The template manager is available only through the Customized View Bar.
Now that I have experimented with custom views, I have found that keeping the bar visible is useful because it reminds me I have hidden items. And templates are handy shortcuts to my favorite views.
When you have hundreds of items, as I do, customized views help to get more done by showing you less.
You may have insights from your own experience with customized views. Leave a comment and let the rest of us know.